Winning the Pipe Masters once is a competitive surfer's dream. Winning it twice is straight legendary. Congratulations @floresjeremy. Winner of the 2017 (and 2010) Pipeline Masters - "I'm so so stoked! I couldn't think of any better way to win. I've had so many ups and downs the last few years and my goal was to win this event. This is crazy. To everyone who supported me, thank you so much. This is for you."
The 2010 Pipe Master took out friend and teammate Kanoa Igarashi and World Title hopeful Gabriel Medina en route to the Final against the new WSL Champion. Today's victory was Jeremy's best result of the season and his first CT win since Tahiti in 2015. With that, he rounds out the year at 15th place on the Jeep Leaderboard and solidifies his place on the 2018 CT.
"Winning the Pipe Masters against John John Florence like that in perfect Backdoor in the last seconds, that's the best way to win," Flores said. "I couldn't think of any better way to win this Pipe Master. I'm so, so stoked and there's a lot of emotions. Congrats to everyone. Congrats to John John and Gabriel, these guys are next level. My goal was to win this event but this is crazy, I'm so happy."
"To be honest, I don't like to be that guy that's deciding titles - it should be a showdown between John and Gabriel, these guys work so hard," Flores continued. "That's why honestly when I beat Gabriel I felt bad. It's been an emotional day and yesterday was stressful. I had to make one heat to re-qualify pretty much and I made it with a 4 and a 2. I just wanted to have fun today and I did and the waves showed up. Through all the ups and downs I have so much good support and this is for everyone so thank you. I won this title for France and it doesn't happen very much!"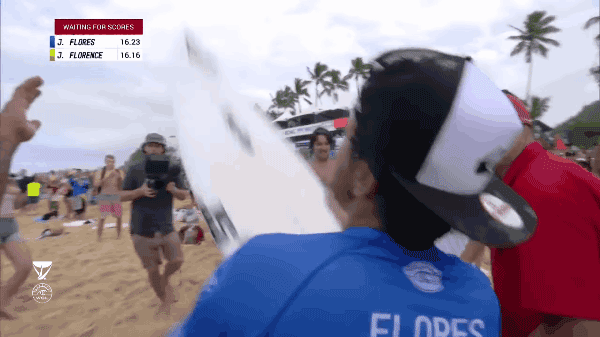 After a slow start to the Final, JJF found the highest score in the heat, a long barrel worth 8.93 points. Jeremy answered with a 7.90, but the World Champ was right behind him with a clean another clean tube for 7.23 points and a solid heat lead. Jeremy was left searching for an 8.27 in order to claim his second Pipe Masters victory, but opportunities were limited and time was winding down. In the final seconds, our boy finally found an opportunity and put it to good use with a deep tube. The crowd waited anxiously for the result. The score? An 8.33. The Quiksilver house lit up, as did Jeremy- your 2017 Pipeline Master!
Congratulations Jeremy!
Images courtesy of the WSL