Jordy Smith is out of France and more airs and upsets from the Quiksilver Pro.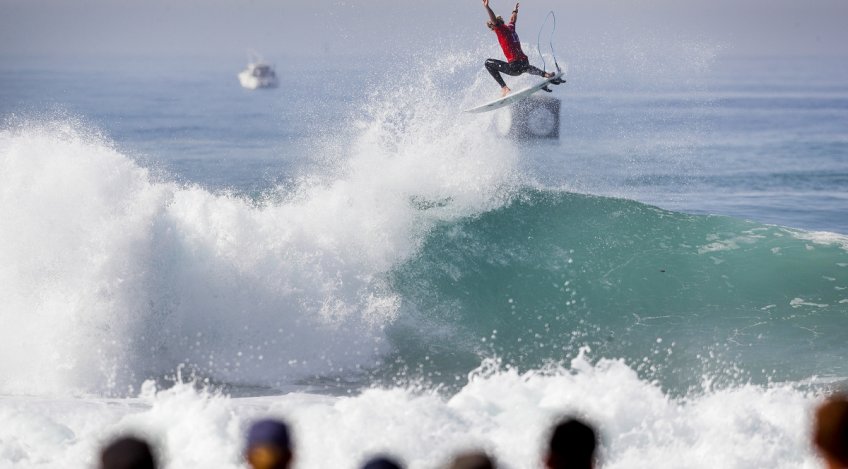 Some call it luck. Some karma. Some believe a bearded man who lives in the sky willed it into being.
Whatever the source, there's something about being in the right place at the right time. France is a great place and autumn is a beautiful time here — but luck or the lord demanded more than that to succeed at the Quik Pro today. You needed to find the right place at the right time, navigating a maze of multiple banks, hectic tide swings, naked men with their baguettes flopping in the gentle breeze. Or maybe just hit the chapel on Sunday and have what's his name sort it.
The good news? The period dropped and it was much hollower than yesterday, and would have been a blast to free surf. But it looked damned tricky to get two good waves in thirty minutes. In an early heat, Bede Durbidge and Wiggolly Dantas surfed about a kilometer apart.
I wouldn't recommend re-watching any of the early heats. I would recommend re-watching all of these:
Owen Wright vs Stuart Kennedy
Boring. Boring. Boring. For the first twenty or so minutes, Stu was winning with a two-wave total of 8.60 then Owen got a 9.17 with less than five minutes left. The day's action officially began. Owen's still in contention to drive that Jeep off into the sunset and win the Title this year.
Miguel Pupo vs Adriano de Souza
Miggy started with an 8, then another 8, essentially while paddling back out. Right place. Right time. Great surfing.
Marc Lacomare vs Jordy Smith
I talked to Marc before the event. The conversation was mostly platitudes— probably due to the language barrier — but he said one thing that stuck out. His biggest advantage, in his mind, was being so used to the big tide swings. Anybody on Tour can surf a wave like La Grav well — they just need to get the right ones. Marc got the right ones, ripped them, and beat the (former) Ratings leader.
John John Florence vs Ethan Ewing
I was worried that John John would hold back. Ethan has been having a year that only Ricky Basnett might envy while right now John can win most heats surfing at 60%. Instead, John stuck two f#@ed up airs and came in with a 19.16 total.
The Judges vs Jeremy Flores
Ah, another lick the hottest flame war in surfing. The judges may have a winning record against Jeremy — although he won a big one with his high-performance display at J-Bay in 2014 — but this is always a matchup to watch. In today's installment, the judges once again got the best of him to the tune of .24 points.
Gabriel Medina vs Leonardo Fioravanti
A brief reminder that Gabriel Medina is still tremendously good at riding a surfboard.
Stephen Bell vs Gravity
Gravity won. Belly handled it like a champ, though.
Nat Young vs Matt Wilkinson
Was the surfing anything special here? Nah. But it's still a little treat for any hard-working blue jean fellas out there who value stern backhand surfing more than they value their significant other. But…I still miss Bobby Martinez.
John John Florence vs Mick Fanning vs Joel Parkinson vs Dean Morrison (In Spirit)
John cucked the Yellow Jersey right off Jordy's back here. When you factor out the two 13ths he's carrying, JJF's World Title campaign is looking sharp. Fear that beard. Trust that scruff*. Actually, fuck that—don't trust scruff. Trust me. He'll get a sub-par result at Portugal then win it all at Pipe. Write it down, thank me later. Side note: Is Mick Fanning the most criticized surfer on Tour? And not because of his surfing, but because of the surfing he wins with.
Miguel Pupo, Marc Lacomare and xxx also earned spots in the Quarters
— but without doing anything overtly exciting. With only 11 heats left to run (plus three from the Roxy Pro), the current plan is for the contest to finish tomorrow. The surf will be slightly smaller, but clean all day. Bring your bordeaux, it should be a beautiful day in France.