The primary site of Le Gardian, on the border of Hossegor and Seignosse, delivered clean three-to-five foot (1 - 1.5 metre) waves today as the Quiksilver Pro France completed the remaining eight heats of Round 3 as well as the four non-elimination Round 4 heats. Stop No. 9 of 11 on the 2014 Samsung Galaxy ASP World Championship Tour, the Quiksilver Pro France holds the dual importance of playing a critical stop in the hunt for this season's world surfing crown as well as a crucial opportunity for the world's best surfers to attain qualification points for next year's elite tour.
Gabriel Medina (BRA), current ASP World No. 1, continued his juggernaut performance of 2014 today, narrowly escaping a Round 3 bout against local Jeremy Flores (FRA) before reasserting his dominance in Round 4 this afternoon.
"With the swell increasing this afternoon, there is a lot of water moving and it's easy to get lost out there," Medina said. "Lucky I found some opportunity and was able to have a better heat than the one I had this morning. Hopefully we get some good waves tomorrow."
Kolohe Andino (USA), current ASP World No. 9, put in a searing performance in his afternoon Round 4 heat, besting Australians Mick Fanning (AUS) and Matt Wilkinson (AUS) to advance directly through to the Quarterfinals.
"Mick (Fanning) is one of my favorite surfers and he's the reigning world champ so of course I'm stoked to beat him," Andino said. "Anytime you draw one of those guys, you have to lift your game. I feel like I'm getting more confident in my surfing this season and growing into a more comfortable competitor. Looking forward to a great finish for the event."
Fanning, reigning three-time ASP World Champion and current World No. 4, will face off against John John Florence (HAW) in Round 5.
Miguel Pupo (BRA), current ASP World No. 16, is recovering from a mid-season slump, collecting a 9th at Trestles and now vaulting himself into the Quarterfinals with a Round 4 win over Kelly Slater (USA) and compatriot Filipe Toledo (BRA) this afternoon.
"Very difficult to get waves out there this afternoon," Pupo said. "I found myself on a couple, but I just as easily could have ended up with none. Kelly (Slater) didn't really get anything out there so you know it's difficult. I had a good start to the year then had some bad events. Happy to be in the Quarters and hope to keep progressing."
Slater, 11-time ASP World Champion and current World No. 2, takes on Taj Burrow (AUS) in Round 5 of competition.
Jordy Smith (ZAF), winner of the previous event in Southern California and current ASP World No. 11, closed out today's competition with an inspired Round 4 performance showcasing his speed, power and potential.
"Conditions remained clean but it was hard work out there," Smith said. "I'm feeling confident in my surfing and comfortable in competition recently. I have some great boards with me and I'm looking to keep the momentum from Trestles going here in Europe."
When competition resumes, up first will be Mick Fanning (AUS) vs. John John Florence (HAW) in the opening heat of Round 5.
Surfline, official forecasters for the Quiksilver and Roxy Pro France, are calling for:
A larger and solid WNW swell arrives on Friday, as conditions remain favorable, before easing Saturday. A reinforcing pulse of WNW swell will build in for the final two days of the event waiting period.
Event organizers will reconvene tomorrow at 7:30am to assess conditions and make a call then.
Highlights from the Quiksilver Pro France are available at ASPWorldTour.com
Quiksilver Pro France Remaining Round 3 Results (1st Advances to Round 4, 2nd Finishes Equal 13th):
Heat 5: Josh Kerr (AUS) 10.90 def. Adrian Buchan (AUS) 10.77
Heat 6: Gabriel Medina (BRA) 9.40 def. Jeremy Flores (FRA) 7.50
Heat 7: Kelly Slater (USA) 13.27 def. Travis Logie (ZAF) 12.93
Heat 8: Miguel Pupo (BRA) 15.23 def. Owen Wright (AUS) 14.33
Heat 9: Filipe Toledo (BRA) 16.10 def. Adriano de Souza (BRA) 13.50
Heat 10: Taj Burrow (AUS) 15.14 def. Kai Otton (AUS) 11.36
Heat 11: Jordy Smith (ZAF) 17.03 def. Julian Wilson (AUS) 10.03
Heat 12: Jadson Andre (BRA) 14.70 def. Joel Parkinson (AUS) 12.86
Quiksilver Pro France Round 4 Results (1st Advances to Quarterfinals, 2nd and 3rd to Round 5):
Heat 1: Kolohe Andino (USA) 16.50, Mick Fanning (AUS) 13.24, Matt Wilkinson (AUS) 10.16
Heat 2: Gabriel Medina (BRA) 16.17, Josh Kerr (AUS) 9.93, John John Florence (HAW) 5.87
Heat 3: Miguel Pupo (BRA) 12.83, Filipe Toledo (BRA) 12.00, Kelly Slater (USA) 6.60
Heat 4: Jordy Smith (ZAF) 15.67, Taj Burrow (AUS) 10.60, Jadson Andre (BRA) 5.17
Quiksilver Pro France Round 5 Match-Ups (1st Advances to Quarterfinals, 2nd Finishes Equal 9th):
Heat 1: Mick Fanning (AUS) vs. John John Florence (HAW)
Heat 2: Josh Kerr (AUS) vs. Matt Wilkinson (AUS)
Heat 3: Filipe Toledo (BRA) vs. Jadson Andre (BRA)
Heat 4: Taj Burrow (AUS) vs. Kelly Slater (USA)
Quiksilver Pro France Quarterfinal Match-Ups (1st Advances to Semifinals, 2nd Finishes Equal 5th):
QF 1: Kolohe Andino (USA) vs. TBD
QF 2: Gabriel Medina (BRA) vs. TBD
QF 3: Miguel Pupo (BRA) vs. TBD
QF 4: Jordy Smith (ZAF) vs. TBD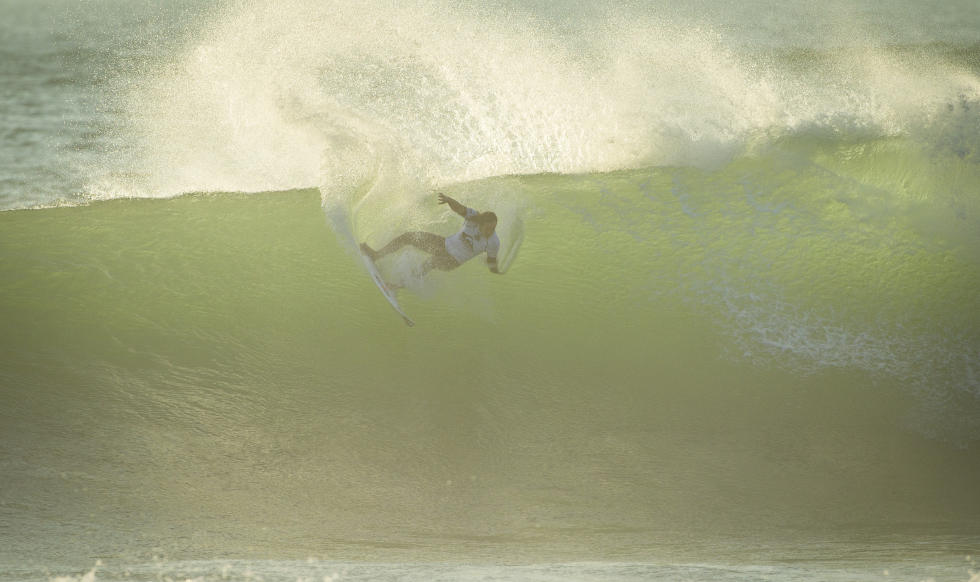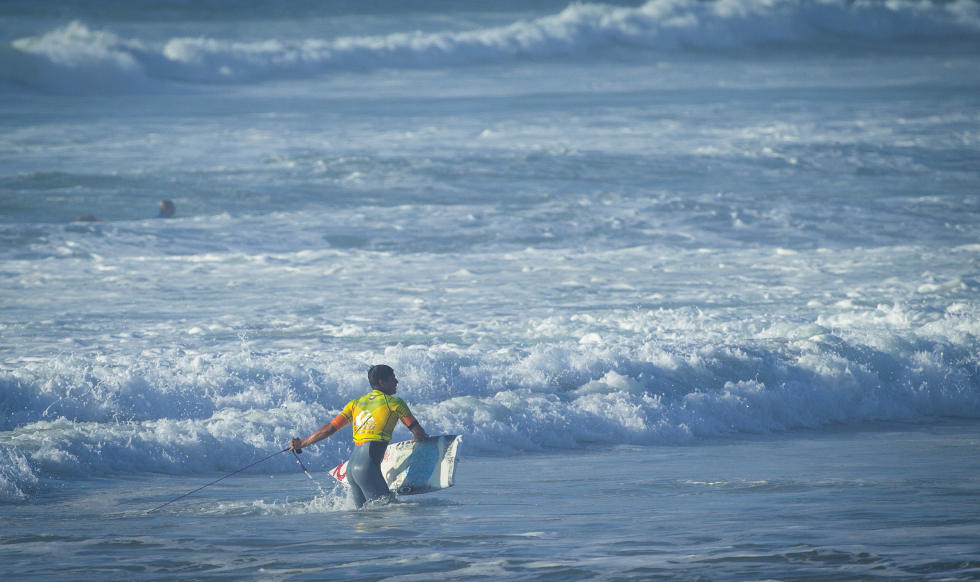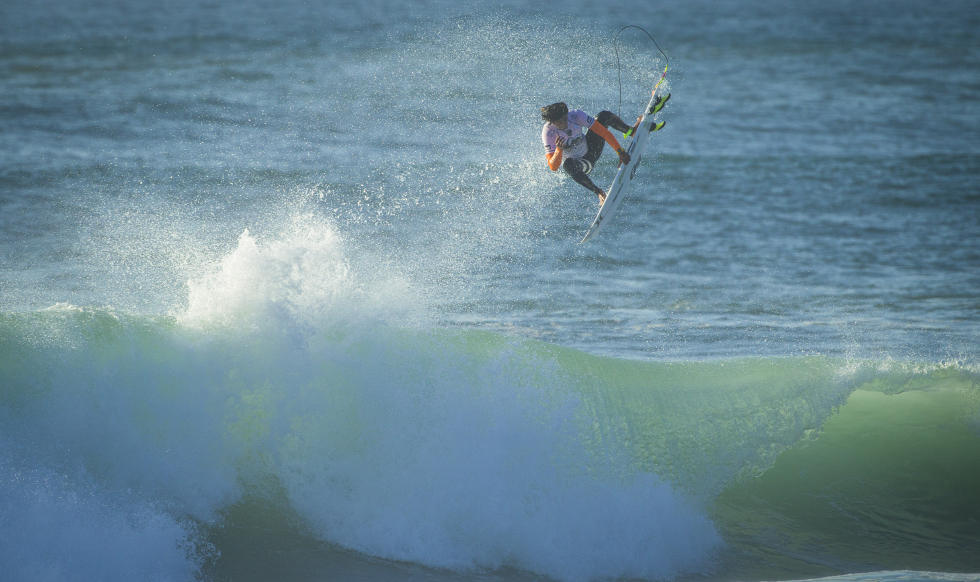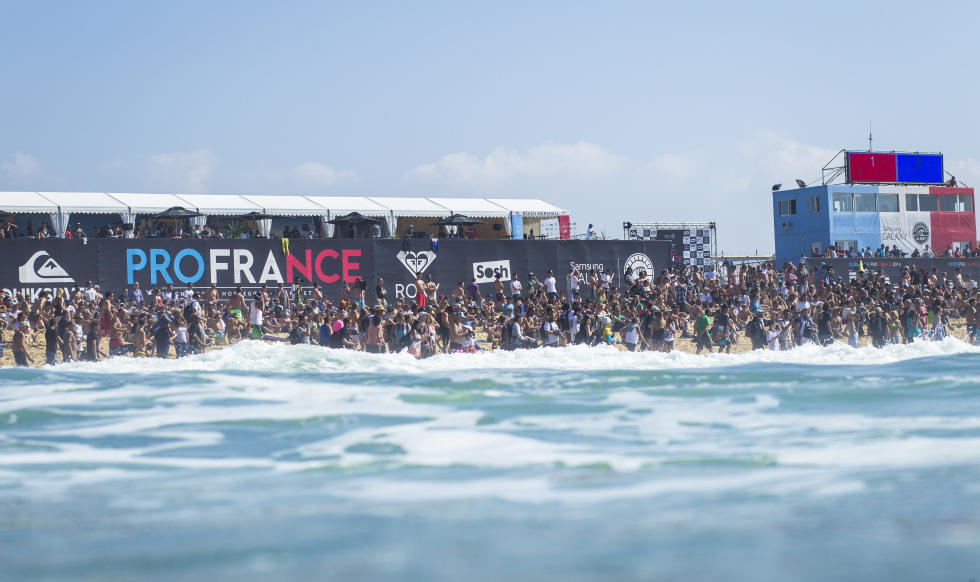 More photos at aspworldtour.com